Why Avior Clinical Diagnostic Centre Best Pathology Lab in Mulund.
Under the supervision of qualified pathologist, Laboratory follows stringent quality control system. All the samples are immediately processed for accurate reports.
Avior Clinical Diagnostic Centre
We are well-equipped computerized pathological clinic operating since 2014 in Mulund East. It is situated at Purnima Darshan Co. Op. Housing Society, Shop No. 3, Nearr. Cosmos Bank, 90 ft Road, Mulund (East), Mumbai-81.It is well connected from all sides in Mumbai and five minutes walking from Mulund Railway Station across the Mulund East-West fly-over and ten minutes drive from Thane and Bhandup via Eastern express highway. Our pathology laboratory is fully licensed and ISO 9001:2015 certified.
Why Avior Clinical Diagnostic Centre
We offer a broad spectrum of Pathology services all designed to provide Physicians and their Patients with the most accurate and diagnostically meaningful results. Our Laboratory provides you with a Wide range of Analysis including Hematology, Clinical pathology, Microbiology, Biochemistry, Histopathology, Cytology, Immunoassay, etc. Accuracy and Precision is our Motto. Hospitals are kept updated in abnormal reports. The turn around time(TAT) is very less so that treatment can be advised faster. Urgent reports, Online reports, SMS alerts, Reports on whats ap on request. We have several collection centers across Mumbai. Friendly, professional, caring Staff. Highly trained & board-certified technologists. In-Network with most insurance payers. Special discounts will be given for senior citizens. Home visit is just a call away. Lab @ Home: Home Visit Facility Available Call/Whats ap: 08879778171 Or Fill Up The Request Form On Our Website https://aviorlab.in/ to Schedule Home Visit. You have a choice when it comes to where to have your diagnostic testing performed. Find out why both patients and their physicians choose Avior Clinical Diagnostic Centre.
AVIOR HEALTH CHECK-UP PACKAGES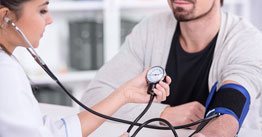 Complete Blood Count, ESR
Diabetes: Fasting Sugar
Liver Function: SGOT, SGPT
Kidney Function: Creatinine, Urea, Urine Examination
Heart: Lipids: Total Cholesterol
Thyroid Function
Complete Blood Count,ESR
Diabetes: Fasting Sugar, HbA1C
Liver Function: SGOT,SGPT, Protein, Albumin, Alkaline Phosphatase, Bilirubin
Kidney Function: Creatinine, Urea, BUN, Electrolytes, Urine Examination
Heart : Lipid Profile: Cholesterol,Triglyserides, HDL, LDL Cholesterol
Thyroid Function
Bones & Joints: Vitamin D, Calcium, Phosphorus, Uric Acid
Vitamins: Vitamin D, Vitamin B12
Complete Blood Count, ESR
Diabetes: Fasting Sugar
Liver Function: SGOT,SGPT, Protein, Albumin, Alkaline Phosphatase, Bilirubin
Kidney Function: Creatinine, Urea, BUN, Electrolytes, Urine Examination
Heart : Lipid Profile: Cholesterol, Triglyserides, HDL, LDL Cholesterol
Thyroid Function
Bones & Joints: Calcium, Phosphorus, Uric Acid
Complete Blood Count, ESR
Diabetes: Fasting Sugar, HbA1C
Liver Function: SGOT,SGPT, Protein, Albumin, Alkaline Phosphatase, Bilirubin
Kidney Function: Creatinine, Urea, BUN, Electrolytes, Urine Examination
Heart : Lipid Profile: Cholesterol,Triglyserides, HDL, LDL Cholesterol
Thyroid Function
Bones & Joints: RA Factor, CRP, Vitamin D, Calcium, Phosphorus, Uric Acid
Vitamins: Vitamin D, Vitamin B12
Cancer Markers: ale: Prostate PSA Total
Female: Ovaries: CA- 125
₹ 3499/-
Urine Routine
Phosphorus
CA125 Lipid Profile
Creatinine
Calcium Blood Sugar(Fasting)
RA Factor CBC
SGOT
SGPT
TSH
Uric Acid
 
CBC
Urine Routine
ESR, Liver FunctionBlood Sugar(Fasting) Lipid Profile
Creatinine
Calcium
PSA RA Factor
Uric Acid
SGOT
SGPT
CBC
ESR
HsCRP
SGOT
Creatinine
Lipid Profile
FBS
PPBS
TSH
LDH
CPK Total
CK-MB
Electrolytes
Calcium
Vitamin D3
Urine Routine
CBC + ESR
SGOT
SGPT
Alkaline Phosphatase
Bilirubin
Calcium
Phosphorus
Creatinine
Glucose Random
Total Cholesterol
Total Protein
Uric Acid
LDH
CPK Total